by Rick Dandes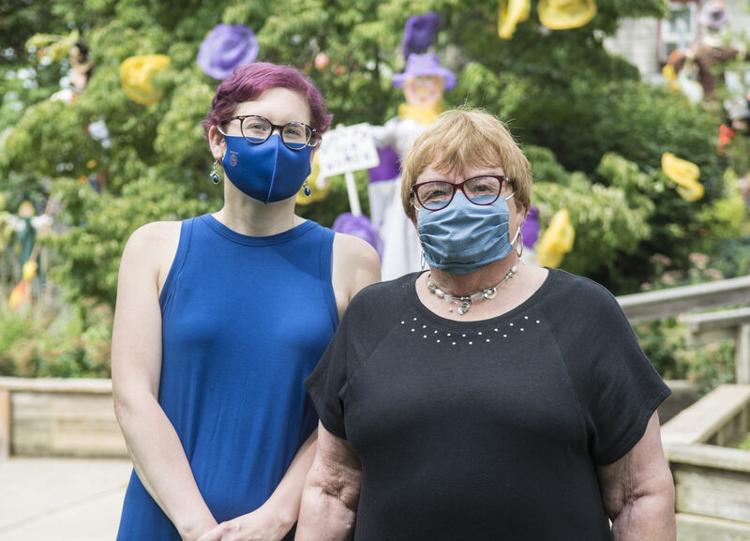 Defying the odds against them, three women, all Democrats, are running this November in historically Republican districts against incumbents in the Pennsylvania Senate and House.
The women are not alone running for office in the general election, taking center stage a century after women earned the right to vote in America with the ratification of the 19th Amendment. In Pennsylvania, there are currently 13 female state Senators and 55 state House Representatives. There are four women among Pennsylvania's 18 members of the U.S. Congress in Washington, D.C.
While that only represents about a quarter of available slots, there are plenty of women on the ballot across the commonwealth in November. 129 women are running in Pennsylvania in the general election, including three statewide races, U.S. Congress and the state General Assembly.
"More and more women are running for office these days," said Nichola Gutgold, a Penn State University authority on women in politics. "Locally. Nationally. In Congress, the number of women only amounts to 25 percent of House and Senate legislators. Still, that's progress."
Michelle Siegel, of Selinsgrove, is on the ballot looking to defeat State Senator John Gordner, R-27, of Berwick. Jackie Baker of Montrose is the Democrat running against State Sen. Gene Yaw, R-23, of Williamsport. Katie Evans, of Lewisburg, is competing against Pa. House Rep. David Rowe, of Lewisburg, R-85, after earning enough write-in votes in June.
"My decision to run for office has nothing to do with being a woman," said Evans, on Thursday.
When Evans realized that Rowe was running unopposed, she believed it sent out messages she did not agree with. One, that everything is fine and everybody is happy; and two, that nobody cares who represents them, she said.
And then there was the question of running as a Democrat in a heavily registered Republican district.
"Because I am a Democrat, people say 'why run? We can't win. The registration is so lopsided in favor of Republicans.' I didn't care about that."
On the ballot
Ten women are running for the U.S. House in Pennsylvania, including Democrat incumbents Madeleine Dean in the 4th District, Mary Gay Scanlon in the 5th and Susan Wild in the 7th.
All three incumbents face females in their races. There are also women running against incumbents in the 1st, 11th, 12th and 16th districts. In the 12th, Republican Fred Keller faces Democrat Lee Griffin and Libertarian Elizabeth Terwilliger.
Women will also be on the ballot in all three statewide races in November. Republican Heather Heidelbaugh will face incumbent Josh Shapiro for Attorney General, Nina Ahmad, a Democrat, meets Tim DeFoor for Auditor General and Republican Stacy Garrity meets incumbent Joe Torsella for Treasurer.
Ahmad is looking to become the first minority woman to hold a statewide executive position. According to the Center for American Women in Politics, only seven women have ever held one of five statewide executive positions in Pennsylvania and none since Attorney General Kathleen Kane in 2016.
Fifteen women are running for the state Senate, including Siegel and Baker. Two races feature women competing head-to-head.
In the lower chamber in Harrisburg, 101 women on the ballot, including Republican incumbent Lynda Schlegel Culver (108th District), Evans in the 85th and Amanda Waltman, a Democrat running in the 84th, which covers a small portion of Union County and into Lycoming County. 16 state House races pit two women candidates against each other.
Evans said she didn't "care if registration is lopsided against us. I care about the people in the 85th. And I believe they deserve better representation than they have."
'Crazy thing to do'
Siegel is a former youth leader at St. Paul's Church in Selinsgrove, and it was during a youth group meeting attended by all age groups, where everybody seemed so happy being together that "for some reason, I had this thought in my head, 'who is going to think about these kids' future?' Are we putting out legislation in Harrisburg that is going to help our community to build a better future?"
Seigel went home that night and told her husband that she wanted to run for office. "He said, 'that's a crazy thing to do. Democrats don't run around here.' But he said he'd support whatever I wanted to do. And that was it."
For Siegel, running is about the "representation of people in the community." But in Harrisburg, she believes, legislators represent their donors.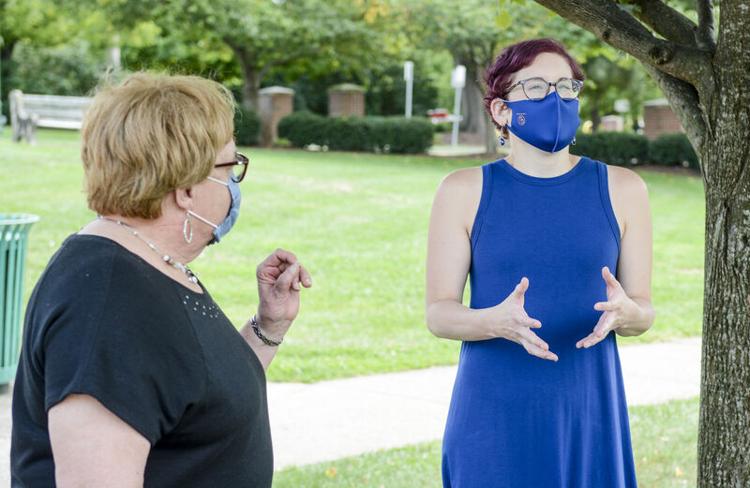 "Believing all that, I couldn't sit on the sidelines," Siegel said.
"Anyone can run for office," she said. "You don't need a special degree. You just need to be someone who wants to represent the voice of your community."
Neither Siegel nor Evans is naive. They know they are running in heavily Republican districts. Gordner is the Majority Whip in the Senate and has been in the Senate since 2003 after serving 11 years in the state House.
"I just felt like if there was ever a need for change, it's now," Siegel said. "Tax money is not coming back to our communities, and that is unacceptable to me. That's why people are so angry at government. People walk away and say 'there is no hope.' I guess I am an optimist."
She wants to put people ahead of party, "and at the state level, that's the easiest place for that to happen," she said.
Evans said she has been "hearing from Democrats and Republicans" some degree of disaffection with how Rowe is representing the district. He has been a vocal critic of Gov. Tom Wolf and his handling of the COVID-19 pandemic.
Evans sees herself as a more moderate voice. Someone who listens to everybody, not interest groups.
Despite the party disparity in registration numbers, Evans feels that she has some degree of name recognition and credibility in the district — as a Lewisburg resident and longtime teacher in the Selinsgrove school district.
Among constituents, Evans said that women "are seeing me as a role model, a fighter … someone who is not strident, who listens to all points of view. I would like to be a role model for women running for office."
Rural voices
Lack of health care, and not having affordable and accessible health care is what most concerns both male and female constituents in the district, Siegel said. "That's what they are saying to me. And it is particularly hard on rural people."
Rural people need to be heard in Harrisburg, Siegel said.
"It is tough running when you've never run before," she said, particularly as the mother of a 9-year old child.
Both Evans and Siegel are not getting much help from the state Democratic party, they said.
"We do have resources online," Evans said. "And the party has assigned someone to this area to help with campaigns."
The party looks at this part of the state and asks "Why should we invest time and money when the odds against us are so terrible," Evans said.
Honestly, noted Siegel, "when you are running as a rural Democrat most people write you off. I believe 'people more than party' is more important in rural Pennsylvania. Even getting endorsed is difficult. It's ridiculous. You are basically endorsed based on how flippable they think your district is. We're not competing on a level playing field."
But there are people in the state party, Siegel said, "that understand, if you want to make real change statewide, you need to deal with the 'T' (Central, rural Pa.). That's where elections need to be fought. In 2016 the party messed up. They did not listen to rural people. I think now and in future elections, they'll want to give us a fighting chance."
Inspirational
Jackie Baker, of Montrose, is running against Yaw for the chance to represent Pennsylvania's 23rd District.
Baker began her political activism in 2017, she said Thursday, particularly in women's groups. She was moved by other women who had run for office. "Their stories were very inspirational," Baker said.
Baker also has become aware of rural families suffering, having to go on food stamps or WIC and social services. "I know how hard it is to make ends meet," she said.
In 2018 she was elected to the state committee for the Democratic party.
Baker decided to run because "I feel this is the year of the woman," she said. "I've seen a lot of women step up and balance home life with politics. I just want to make things better for families.
"You can sit around and complain about how things are," she said, "or you can stand up and try to make a positive difference."
Elizabeth "Liz" Terwilliger, an early Intervention speech-language pathologist from Warren Center, said she is running on the Libertarian Party against Keller, for the US House of Representatives from Pennsylvania's 12th Congressional District "because we need a representative, not a politician and the bully tactics in politics today," she said.